The May Nature Calendar includes daily outdoor activities to help you become more aware of the changing world around us. I've also included nature journaling pages to go with some of the activities on the calendar where your child can record their observations and begin a habit of keeping a nature journal.
I love this quote by Amy Tan on nature journaling.
Scientific research proves that active learning through nature journaling can change the brain and boost intelligence. It makes sense. If kids are free to wonder aloud without feeling dumb or tested, they remain engaged. If they are happy in what they are doing, their attention span grows. By noticing how they feel when they experience something new, they absorb ideas more quickly. By being excited with what they've created, their memory expands and becomes the wellspring for future learning.
I believe this applies to making observations in nature as well. I see this in my daughter as we work our way through the calendars. She is so excited about each new observation. She can't get enough. And I'm privileged to see the world through the eyes of a child again.
Encourage your children to observe, to ask questions, to be curious about the world around us. God has filled this world with so much beauty and creativity.
His fingerprints are all over His creation, and it's so beneficial to my soul to spend time in his artwork.

Sally Clarkson
I hope this calendar and activities helps you and your children to do just that.
What's Included in the May Nature Calendar
In May, we'll learn about birds and nests, wildflowers, trees, ants, spiders, insects, and more.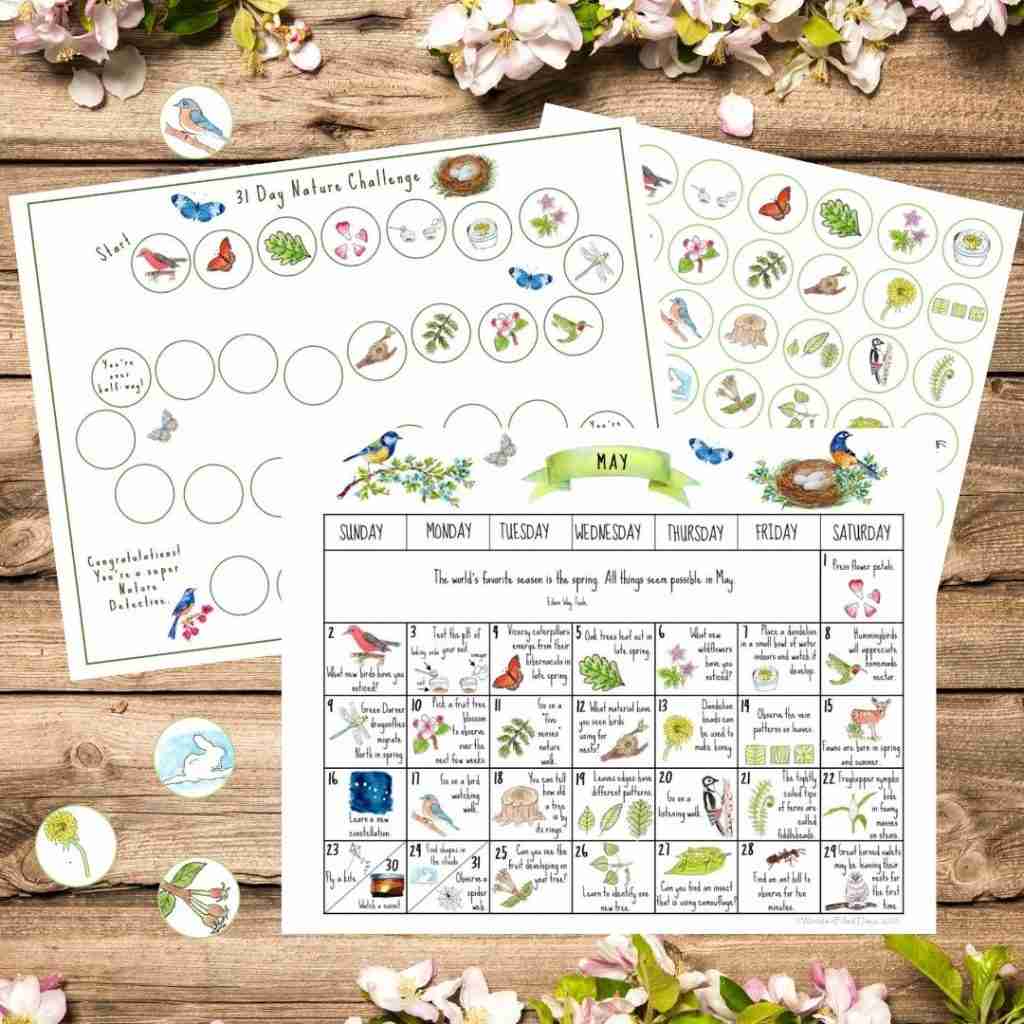 Each study includes fun activities, art projects, and literature, as well as four picture studies paired with a poem. Usually the poetry and art tie in with the other subjects being covered. You can use one each week for a poetry tea time. In May, we study art by Jean-François Millet and Virginie Demont-Breton and poems by Effie Lee Newsome and Margaret Wise Brown.
On most days, you'll find links to learn more or a short video that you can watch. You can treat this nature study as a fun addition to your studies, or you could easily make this an entire elementary science curriculum (with some art, poetry, and language arts thrown in). It's truly very flexible.
Calendars may vary year by year.